Order Psocoptera
As well as Psocids, this order contains at least one well-known insect – the Booklouse – but to date I haven't photographed one of those destructive little beasts, hence why I have only used Psocid as the page title. Needless to say, I hope I never see a booklouse anywhere near my precious collection of insect and spider books.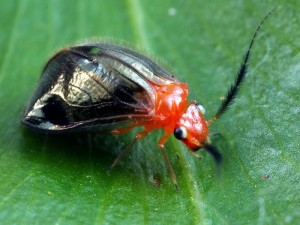 Psocids are sometimes mistaken for members of the bug order Hemiptera, but the key difference is that bugs have sucking mouthparts while Psocids have chewing mouthparts. That may not always be immediately apparent because Psocids are very small, ranging in size from less than one millimetre up to ten millimetres. They have small rounded bodies, comparatively large heads with compound eyes, medium to long filiform antennae and sometimes, but not always, a pair of membranous wings.
The diet of most Psocids consists of plant matter, algae or fungi. There are only a few species that prefer other things like paper, so the majority are not what you would consider to be pests. Sometimes, large numbers of Psocids can be seen together on a host plant.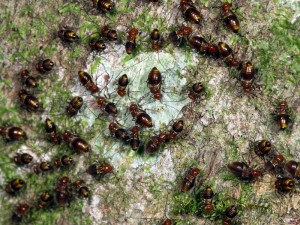 The mating process begins with adults secreting pheromones to attract the opposite sex. In a number of species, when a male and female find each other, the male will do a little courtship dance to gain the female's acceptance. After fertilization, the female lays eggs somewhere protected, such under loose debris or under the bark of trees or in some cases under a silk mat. During their development, the immature Psocids moult around half a dozen times before reaching adulthood.
Psocids are found all over Australia, but they are more likely to be found in areas that offer a degree of moisture. The 300 or so Australian species makes up 10% of the world total.
~~~~~
~~~~~