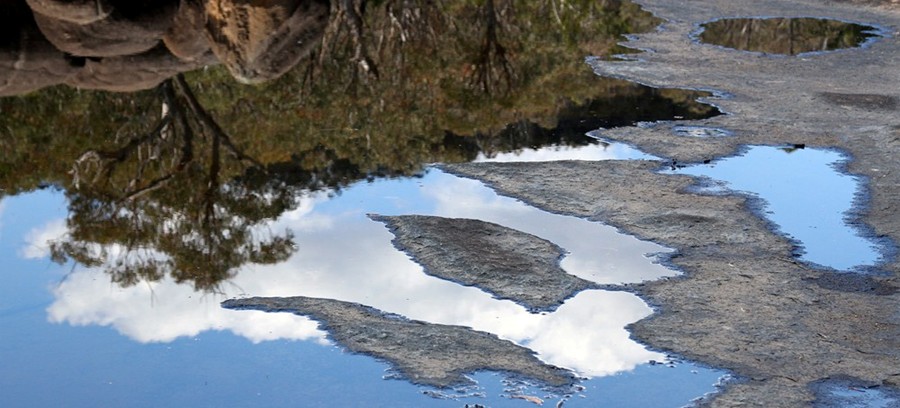 I had known about Girraween National Park for a few years before I finally visited the place in October, 2014. A couple of friends of mine, Vanessa and Chris Ryan, run a website dedicated to this amazing piece of Australia and I had often looked at some of their photos and marvelled at the unique landscapes and the amazing flora and fauna, but as beautiful as the images were, I couldn't get a real feel for the place without seeing it for myself. Since I was going to be passing through the area on my way to Brisbane and the Sunshine Coast, it made perfect sense to include it in my itinerary, so I booked a few nights at a motel in Stanthorpe, a town 30 kilometres north of the park.
I arrived in Stanthorpe just before 3pm on Wednesday, the 22nd of October,  and after checking into my room I made the decision to head down to Girraween to make the most of the last couple of hours of daylight. After a quick bite to eat and a check to make sure I had all the camera gear I was going to need, I got back in the car and within half an hour I was in the car park next to the park information centre.
As is my way, I set off at a snail's pace along a small path that cut through the scrub, checking every tree, shrub and rock for signs of life. Admittedly I was a little disappointed to begin with. It was very dry and there wasn't a lot of life around, even on the Fringe Myrtles that were showing off their sprays of soft pink and white flowers. But not one to be deterred so easily, I continued on a bit further and found myself entering a clearing where I was presented with one of the most beautiful scenes I have ever laid eyes upon. There before me was a large, tranquil pool of clear, fresh water, its edges lined with eucalypts, native pines and numerous other plants. In places, granite broke the surface of the water like giant stepping stones. This was Bald Rock Creek and although it wasn't flowing too much, there was enough water trickling downstream to feed smaller pools that dotted the solid rock creek bed. I instantly fell in love with the place and I knew straight away that I should have planned on more than just a few days here.
Girraween National Park sits at the heart of the Granite Belt in the Darling Downs region on Queensland's southern border. Girraween's sister, Bald Rock National Park, adjoins her on the New South Wales side of the border. The entire area sits on one big bed of granite and everywhere you look there are massive outcrops of solid rock and huge weather-worn boulders strewn amongst the eucalypt forests, bisected here and there by smooth granite creek beds, which are almost dry for a large part of the year.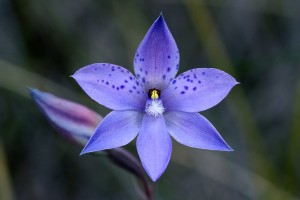 It sounds like a tough place to survive, but the diversity of wildlife in Girraween suggests otherwise. Girraween is an Aboriginal word that means "place of flowers" and it's easy to see why, especially in Spring. There are hundreds of species of flowering plants, from tall Eucalypts to tiny native violets. Everywhere you walk, there are flowers of all shapes and colours, including some spectacular varieties of Orchids. It's everything I would want my native garden to look like.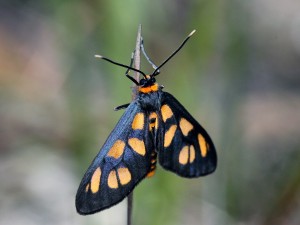 There are a lot of birds, mammals, reptiles and other creatures in the park, but of course my main aim was photographing the invertebrate wildlife. Despite my initial concerns, the two and a bit days I spent wandering around in the bush proved to be quite successful and I racked up a pleasing 94 species of insects and spiders, most of which I had never seen before and several of which I still haven't identified.
For me, the highlight came early on the first full day in the park. I had arrived early on the Thursday morning and set off along the path that leads to The Pyramid, a large granite monolith that rises above the surrounding forest. Less than an hour into the walk (which equates to a few hundred meters at my speed), I came across a couple of Leptospermum (Tea-tree) shrubs just off the track. They were in bloom and their flowers always attract a lot of nectar-feeding insects, so I began investigating them in more detail, hoping to spot something interesting.
As I stood up close to one of the shrubs, a flash of green passed before my eyes and a small beetle landed literally right in front of my face. I was thrilled when I realised it was a species of Jewel Beetle from the family Buprestidae, one of my favourite groups of insects. This was one I had never seen before and it was beautiful! Not only was it a wonderful metallic emerald, but the outer edges of the pronotum and elytra were lined with bright orange, which also formed a zigzag pattern across the lower half of the elytra. And to cap it off, it had an orange bell shape in the middle of the elytra. This was Castiarina discoflava, a gem of a jewel beetle, and I managed to get just two quick photos before it disappeared as quickly as it appeared. I held my breath as I checked the images. They were in focus and the exposure was spot on. I was ecstatic!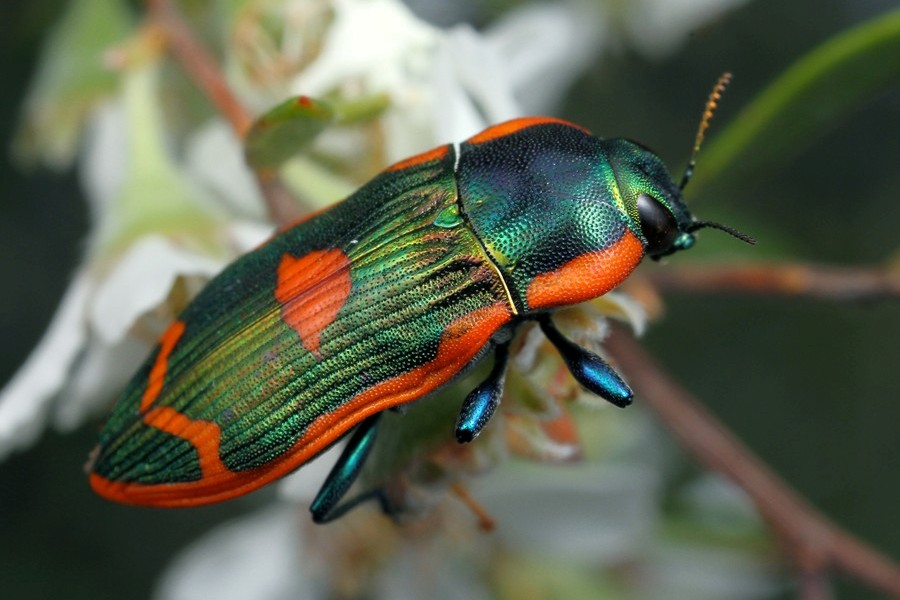 It was the perfect start to the day and I don't think it would have mattered what happened after that, but as it turned out I was to capture so many more amazing creatures that day and the next. Not only was I adding new finds to my own collection, I was also adding to the list of species that Vanessa and Chris Ryan have been recording in Girraween. I should also mention that I spent the last day at Girraween with Vanessa and Chris, who were only too happy to give me a guided tour along Bald Rock Creek and share their knowledge of the park with me. For that, I am eternally grateful.
For more information about Girraween National Park and its inhabitants, please visit the Ryan's website www.rymich.com/girraween/. Then get yourself to the park and prepare to be amazed.
Do you have a question or comment? You're welcome to get in touch with me through the CONTACT PAGE.