Order Megaloptera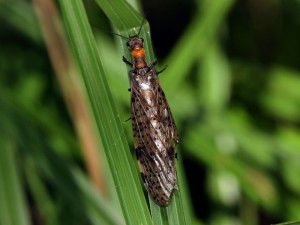 I must admit I haven't had much experience with this order of insects. In fact, I have only photographed Dobsonflies twice and have never seen an Alderfly. Perhaps it is their preference for remaining hidden during the day that makes them difficult to find, or maybe it's the fact that the adults have fairly short lives. Either way, they are pretty much a mystery to me.
Adult Megalopterans have long slender bodies, slender legs, two pairs of long, membranous wings and mandibulate mouthparts. Dobsonflies are larger than alderflies and one of the key differences is that dobsonflies have three ocelli on their heads, whereas alderflies have none. The larvae are aquatic and have powerful mandibles and their abdomens are lined with gill filaments.
The life cycle can span anywhere from a year up to five years. A female will lay hundreds of eggs close to a freshwater stream and after a few weeks the larvae hatch and head straight into the water, where they will remain until they are ready to pupate and become winged adults. Around a dozen moults occur during the larval stage. It seems the sole purpose of the adult stage is reproduction because the adults don't eat much if anything and usually only live for a few days.

Dobsonfly and alderfly larvae are predators and they feed on other aquatic invertebrates such as the larvae of other insects – mayflies, caddisflies and the like. They are also a source of food themselves and can be taken by other invertebrates and fish and apparently they make good trout bait.
All but one of the 26 described species of dobsonflies and alderflies are found in eastern Australia between Cape York and Tasmania, most of them inhabiting the tropical regions. One species is known from southwest Western Australia.
~~~~~
~~~~~