Order Arthropleona, Symphopleona & Neelipleona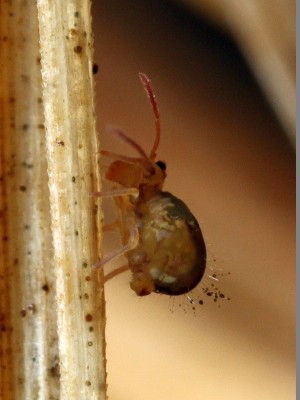 Go outside and pick a square meter of your garden and start searching through it with a magnifying glass. Check the soil, the leaf litter, the logs, rocks and plants. The chances are very high that you will come across a springtail. In fact, you will probably come across a LOT of springtails. That one square meter of garden could be home to anything between 2,000 and 100,000 springtails and there could be any number of species represented. And this would be the case in almost every square meter of Australia, and any other country for that matter. Springtails are one of the most abundant organisms on earth in terms of numbers, so why don't we notice them? Because they're usually tiny.
Most springtails are only 1 to 3 millimetres in length and their appearances vary greatly. They can have squat rounded bodies or they can have elongated bodies. They vary in colour and their four-segmented antennae can vary in length. None of them have wings, but many have a tail-like structure which they can quickly flex to launch themselves into the air, hence the name Springtail. The eyes are compound in appearance, but they are made up of groups of up to eight ocelli, which are simple eyes that are used more for detecting levels of light rather than actual vision. Although springtails have six legs and have the general appearance of an insect, they are no longer classed as an insect and are now in their own class Collembola.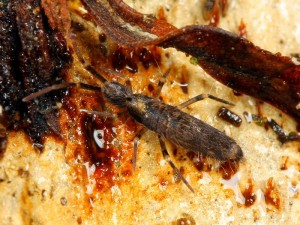 Springtails produce several generations during the year, each generation only taking three to five weeks to go from egg to adult. The young will moult half a dozen times before they reach maturity.
Small mouths require small meals, so many springtails feed on microorganisms such as bacteria. Others prefer vegetable matter or whatever can be scavenged.
As I said, there is nowhere in Australia that you won't find springtails. You just have to be prepared to get down on your knees and have a really good look for them. It might be a good idea to take a magnifying glass with you.
~~~~~
~~~~~