Some of the best things happen by chance.
When I was planning my 2018 Western Australia trip, one of my intentions was to stay in Cervantes, which is on the Coral Coast approximately 200 kilometres north of Perth, so I could be close to Nambung National Park and its famous Pinnacles Desert, but I was forced to look elsewhere due to a lack of affordable accommodation. The map showed a promising alternative, Jurien Bay, a mere 20 kilometres north of Cervantes and also on the coast, so I called the Jurien Bay Tourist Park and was able to secure a tent site for a couple of nights. While I was organizing the booking, I asked if there were any parks nearby that were worth a visit, especially if they had lots of wildflowers, and the lady recommended a little place called Lesueur National Park, a 20 to 30 minute drive northeast of town. I had never heard of it before, but if a local recommends it, it's probably worth checking out, so that's what I planned to do. It wasn't good. It was phenomenal!
As soon as I arrived in Jurien Bay and had my camp site organised and my camera gear ready to go, I was straight back in the car and off to the park. It's the sort of place that catches you by surprise. The trip there passed through some fairly unremarkable scenery, mostly vast, empty fields, and after travelling along a dirt road for the final 5 kilometres, I was suddenly at the park entrance. No fanfair, nothing fancy, I was just there. But once I drove into the park, it all changed very rapidly. Suddenly the roadsides, the sandy flats and the gently rising hills were awash with colour, courtesy of countless flowering plants of all shapes and sizes.
There were a couple of varieties of Kangaroo Paw, including the red and green Anigonzanthos menziesii, Western Australia's floral emblem. Yellow Hibbertia, Conostylis and Verticordia blossomed alongside mauve Calytrix, pink Philotheca, white Milkmaids and Blue Tinsel Lily. Purple Enamel Orchids, Blue China Orchids and yellow Cowslip Orchids flourished in the undergrowth, as did various Sundews and Triggerplants. Every step revealed something new. In fact, the park is home to 900 plant species, a whopping 10% of Western Australia's described flora, which makes it a very significant conservation area. This is even more impressive when you consider the fact that the park only covers 27,000 hectares (270 square kilometres).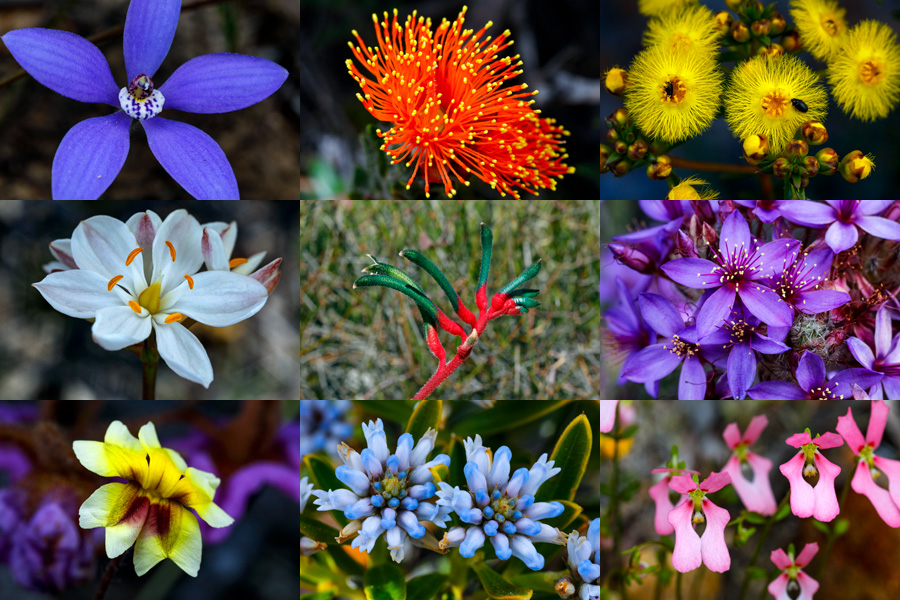 But the surprises didn't end there. I was intent on finding some of the small creatures that inhabit this incredible place and although I only managed to photograph 20 species during two walks in the park, I was far from disappointed. Included in the collection was the delightful Pollanisus cupreus, a Forester Moth with scales that have blue, green and copper iridescence; a handsome black and orange Jewel Bug called Choerocoris variegatus; a small wingless Praying Mantis that scurried along the sand in search of an insect meal; and three different Castiarina species jewel beetles, the pick of the bunch being the impossibly beautiful Castiarina aura.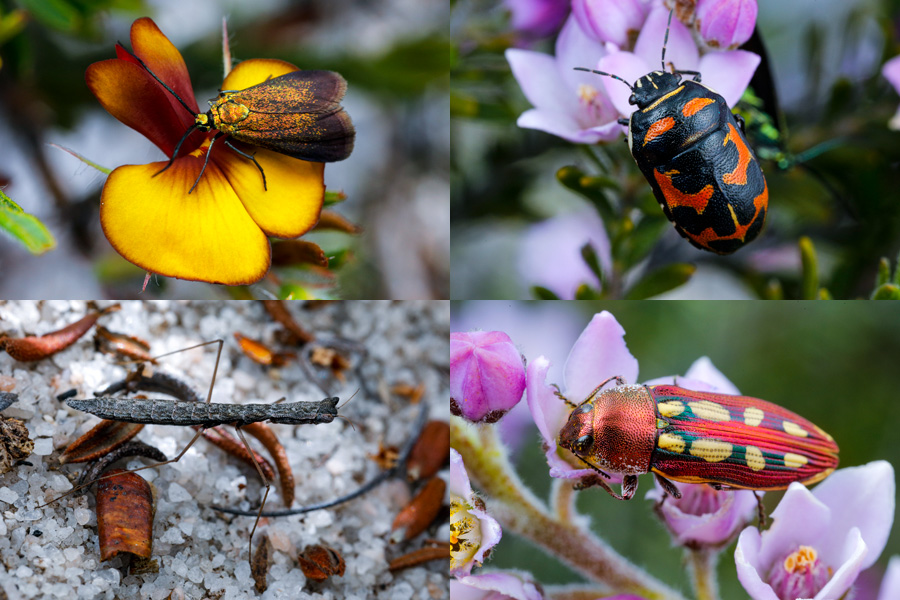 As was the case with so many other places I visited during my trip, I wished I had more time to spend in Lesueur National Park because I know I could have found and photographed so much more of the park's staggeringly diverse fauna and flora, but I guess that just gives me added incentive to return there one day.
Lesueur National Park is just one of dozens of magnificent conservation areas that are dotted along the Coral Coast, but I highly recommend adding it to your list of destinations if you are ever planning to stay in the area, especially if you're there during Spring. You won't be disappointed.
Do you have a question or comment? You're welcome to get in touch with me through the CONTACT PAGE.