Order Neuroptera
Admittedly, this is a group that I know little about. I have seen a lot of lacewings around, especially in Early Summer, but I haven't encountered too many antlions and only one owlfly, although they are considered to be common.
Neuroptera have two pairs of heavily veined, membranous wings, a pair of compound eyes, mandibulate (chewing) mouthparts, and long, slender antennae, which can sometimes be club-like at the ends. Their bodies are elongated and soft.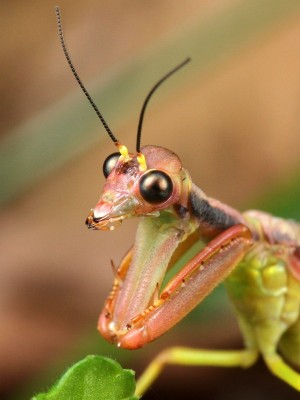 They undergo complete metamorphism. The larvae are small, bizarre-looking creatures with large jaws that are used for seizing prey. They moult a few times before pupating and eventually emerge as adults. Some species can take a couple of years to fully develop, but most take only a few months.
These are predatory insects. Some larvae live in small crater-like pits in sandy areas, waiting for another insect to stumble into the pit, where it is seized and dragged under the sand to be devoured. Ants are a common source of food, hence the name Antlion. Adults mostly prey on small insects such as aphids.
Neuropterans are found in many habitats in Australia. Antlions prefer areas with loose, sandy soil for their pit traps, so they can be found in arid regions or dry sclerophyll forests. Lacewings like to eat aphids and scale insects, so they can often be found in suburban gardens and a are a valuable form of natural pest control.
Special thanks to Ken Harris for providing identifications for a number of species.
~~~~~
~~~~~