Order Embioptera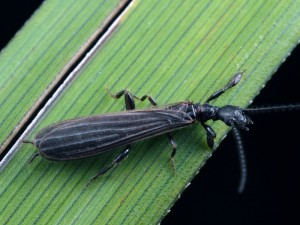 Web-spinners are rather odd little creatures that look like they have been put together from bits of other insects. At a glance, the wingless females look like rove beetles from the family Staphylinidae and winged males somewhat resemble stoneflies. And just to add to the oddity, they spin webs with their feet.
All web-spinners have elongated bodies, short legs, medium-length antennae and mandibulate mouthparts. The females are wingless. Males have two cerci at the tip of their abdomen and in most species they have two pairs of slender wings. But the real distinguishing feature is the enlarged front tarsi where the silk-producing glands are held.
These elusive creatures aren't often seen because they prefer to remain hidden under the sheets of silk they weave on tree trunks or under bark or rocks. They feed mainly on vegetable matter such as moss, lichen and bark, and they continue to weave their silk retreats as they move from one food source to another. The males don't feed once they reach maturity and are therefore fairly short-lived.
Web-spinners can be found living in small communities consisting of females and their offspring. After mating, a female will leave her housemates and find a new location to lay her eggs and start a new colony. The young resemble adult web-spinners can start spinning their own webs straight away. They moult a number of times before they reach maturity and the males develop their wings at the last moult.
Australia is home to 65 species of web-spinners, with most being found in the moister tropical and sub-tropical regions.
~~~~~
~~~~~